Every time fantasy basketball season rolls around, that guy your buddy drafted in the last round ends up on the All-Star team and leads that lucky soul to a fantasy championship. Here are 5 players nobody expected to be off to such a hot start.
Myles Turner
Myles Turner showed us flashes of how good he could be last season with the Indiana Pacers, and it appears those flashes were for real. Turner is currently averaging 17.2 points and 7.2 rebounds per game to go along with a very good 54.9 field goal percentage. He is still seeing under 30 minutes per game, but these are great multi-stat numbers if you were able to grab him in the later rounds. If Turner starts to see more playing time, his value will skyrocket even higher.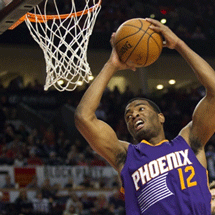 T.J. Warren was probably drafted in the last round of your draft if he was drafted at all. He has rewarded those savvy enough to snag him by averaging 21.7 points and 6.2 rebounds to go along with a decent 46 percent from the field for the Phoenix Suns. Warren is on the floor for about three quarters of every game, and should continue to improve moving forward.
Avery Bradley
While Bradley was generally drafted a bit higher than the other guys on this this list, nobody expected the amount of production he has provided across the board. Avery is averaging 20.6 points, 4.2 assists, and 8.2 rebounds while shooting 50 percent from the field. Players that can fill up a stat sheet like this tend to be taken in the first few rounds, making Bradley a fantastic mid round steal.
Dennis Schroder
Dennis Schroder was handed the keys to the starting point guard spot for the Atlanta Hawks this season. He has been rounding into form, averaging 15 points, 6.5 assists, and 3.3 rebounds per game. As a guy who went in the last few rounds of fantasy drafts, if at all, these are great numbers. Schroder is also capable of catching a hot hand from three-point range, making him especially useful in leagues that score individual stat categories. For a guy who is still getting used to a feature role in Atlanta's offense, he should continue to grow from here.
Joel Embiid
The Philadelphia 76ers drafted Embiid 3rd overall in the 2014 draft, but he ended up missing the next two seasons with a broken foot. Now that he is finally healthy, Embiid looks set to explode. Despite being restricted to about 20 minutes per game while the 76ers ease him into action, Embiid is averaging 18.5 points, 6.3 rebounds, and 3 blocks. This is insane production considering the small amount of playing time he has been seeing. This can only bode very well for those who scooped him up with one of their final picks.
---
Scott Levy hails from New York where he recently hung up his sneakers after a mediocre intramural basketball career. When he's not working or out hiking with his dog Baxter you can find him glued to whatever NBA game is on TV, and usually blogging about it afterwards.